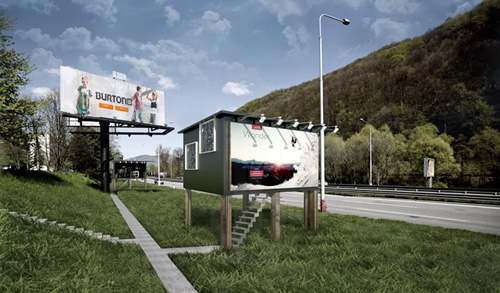 노숙자를 위한 가변건축 입니다.외벽은 고속도로 사이드의 광고판 역할을 하면서 내부는 노숙자를 위한 쉼터가 되겠네요...건축을 이용한 콜라보레이션 광고의 극대화입니다.정말 존경스럽습니다.누구나 생각하지만 아무나 할수없는...토마에서 실현하세요!!!
designdevelop converts billboards into houses for the homeless
all images courtesy of designdevelop
the worldwide phenomenon of homelessness has become a growing concern during past couple of decades. finding solutions is a complex task which involves a coordination of skills in socio-psychological and administrative fields. created by designdevelop, the main priority of 'the gregory project' is to find optimal alternatives for the existential questions of people without homes through the use of billboard objects and their advertisement spaces.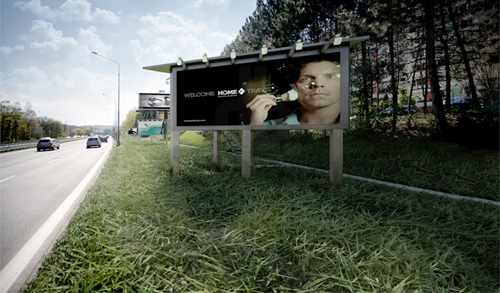 proposed billboard house in slovakia
cities are engulfed with billboard advertisements which are expensive to construct, maintain and their subsequent renting is a costly venture. the proposal increases the functionality of the structures in a way that the insides could be turned into living spaces. such an object would produce minimal maintenance costs, which could be paid through the rental space of its façade. in addition, the architects believe, 'if we take the electricity cost needed for the billboard to keep it lit during night and we try to optimize it by x%, we find that this saved energy could fully cover all those interior usage needs.'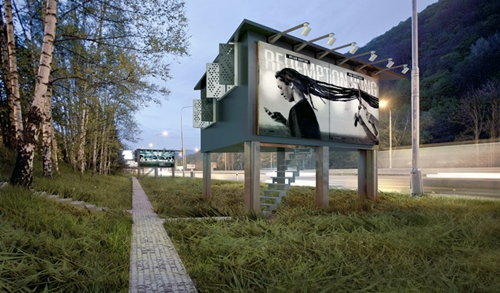 billboard dimensions are the same with the exception of the stairs that lead to the living areas
this study is based toward republic of slovakia, for the city of banskà bystrica, where it is easy to implement due to existing energy and water grids. however, the housing project is possible to apply anywhere, with the exception that its implementation must be proceeded by research for an adequate place where it may be physical realized.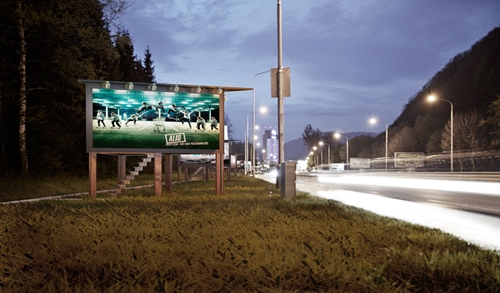 exterior visualization of the structure
partner reciprocity is focused toward firms and investors who would participate in the realization or long term rental of the involved advert space. in turn, they would be provided with an official logo, which they could place on their own companies web sites, or other propagation materials with direct links to the project website. the added value lies in an option to present one's company towards its peers as a place of social consciousness.
exterior visualization of the structure
the triangular shape of a billboard results in a plan divided by two rooms. the first contains an entrance hall, kitchen, office desk, stairs to a raised bed, and bedroom part under that is storage room. the second component holds a bathroom with a washbasin that is located on the wardrobe, toilet and shower corner. construction is solved with wooden joists, concrete base, oriented strand boards, wooden or steel staircases and two windows.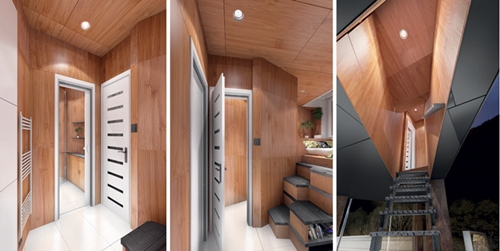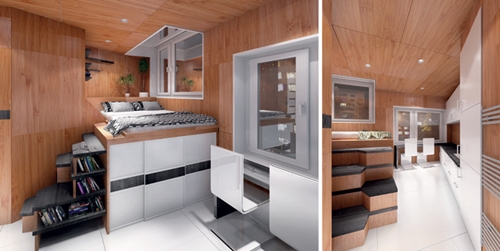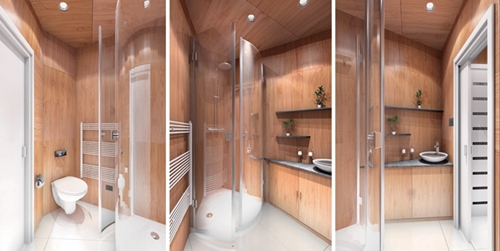 the work is meant to be an 'open source' initiative which encourages interactions among architects, designers, and artists who can come up with innovative construction methods and layout alternatives. the non-profit platform will be available for each city without the author claiming any financial benefits from its usage.